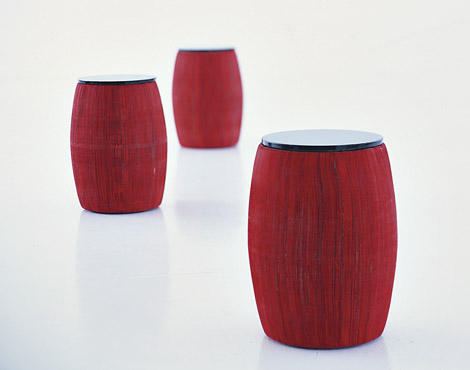 I've never liked the barrel/drum side table/stool/ottoman thing. I tend to favor straight lines. Lately, though, I've begun to think they're the bee's knees. In their February issue (that of the infamous
Zac Posen
dress-induced
desp
air
),
Domino
showed where to find a "cheap" version. I will look tonight and post the picture and link of that. I especially like the
Gervasoni
take on the
table
; it's made of pressed newspaper. How cool is that?
I have a small space next to my adored $35 gold
craigslist
armchair that would be perfect for this table (without the black top though...).
Pier1
has something similar--the "
Handan Stool
." I like it, but the color wouldn't work for me, and I'm not crazy about the trim or little dot things. Is there a technical term for little dot things?
Crate and Barrel
has the "
Congo
," but it's $379. Ouch. Do any of you have know other sources for similar pieces?
By the way, how do we feel about all this rattan/wicker/natural grass stuff?
P
o
t
t
er
y Barn's
latest catalog featured tons of it--I liked the
cover
and the picture in my previous post, but wasn't nuts about the rest. And Pier1 has always had a lot, but they're just loaded with it now. By the way, the one chair I
do
really like, the
Dayton
, is on sale for $65. You still have to buy the cushion (for around $44), but I find the chair price rather reasonable.
And finally, you know what I find the most exciting thing in the whole world? I LOOOOOOOOOOOVE when I'm looking at a website and they have something that I found a near replica of at
Target
. It makes me feel like a winner. And perhaps I need to seek another source of validation, but the sense of satisfaction is no less real. Behold: Crate and Barrel's
Kingston
for $199. I bought almost the identical table at Target. Crate and Barrel: 0; Casey: 1.