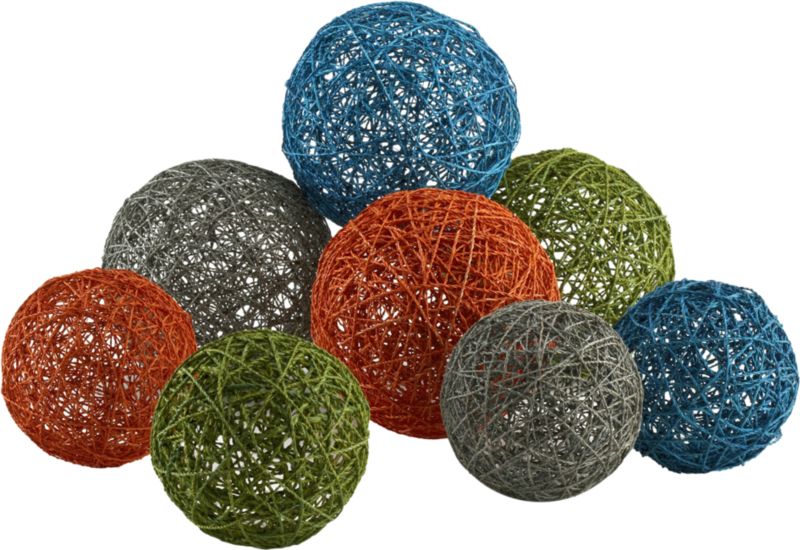 I am really drawn to these
balls
by
CB2
. [Yes, jerks, insert your "Well, Casey's always drawn to balls" joke here. Then grow up.] [Okay, I admit it, I still mentally make ball jokes. Someday I'll be an adult.] Anyway, the balls pretty much match my living room color scheme. I can picture a bowl or hurricane lamp full of them. I'm usually not a huge fan of these sorts of things, but I guess there's a kindergarten/yarn/plaster of Paris aspect to them that I like. While I'm on the subject of CB2, let me say that you should definitely visit their page. They are very reasonable about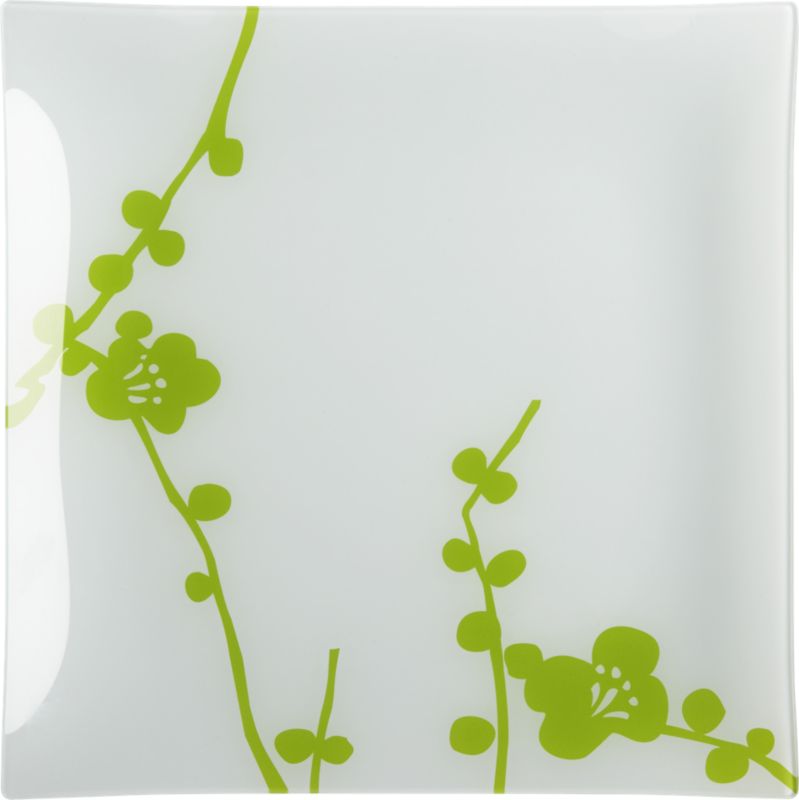 incredibly well-designed pieces. I covet the
haiku platter
. Sadly, I am destined to years of retro-red, as dictated by my kitchen.
I think this brings me to another subject. I'm really wondering: Are other people as crazy as I am?? So, I have this 1950s-ish kitchen. I like it. I put in the
Pottery Barn cafe curtains
, and I have a bunch of old (and, frankly, slightly bizarre) family pictures up, and Fiestaware galore, and I'm happy with it. I'm also sort of stuck with it. I feel as if every item I buy for the kitchen must be red. I don't even really like red. And really, I should let go.
Take the aforementioned haiku platter, for example. It's a platter. As in, take an appetizer to a party. As in, take an appetizer to a party given by people (ahem, usually your mom) who most likely do not have a 1950s-inspired kitchen. As in, these theoretical people will love your appetizer and compliment you on your cute haiku platter which will lead to a discussion of CB2 which will lead to a discussion of your blog and maybe you'll finally get readers. Now, I know I should buy the darn platter. But I JUST CAN'T DO IT. I can't buy something that doesn't match the kitchen. Do you want to know why? Promise not to laugh? Okay. Because my cupboards won't match. I know, I know, I'm insane. It's not like they're glass-front or anything. Nope. It's just that I'll
know
. I wonder if there's a program for people like me.
What else, what else? Ah...I recently discovered
Textile Arts
. They've got a limited but cute assortment of gifts, as well as large-print
Marimekko
fabric, like the oilcloth piece below. I am, I must say, a little sad that I haven't been able to work this color a
nywhere into my apartment. There are about a million beautiful vases in the same shade. Target, Pottery Barn, and every little knick-knack home store has such vases in abundance. There are also a bunch of lamps that I want. Do you know what I mean? It's a kind of milky material? It's somehow modern and beach and farmhouse all at once. Argh, if only I didn't have a yellow and orange bathroom. I like the whole milk blue vase/white starfish combo.